Course Information
Field Botany (BIOL106)
Intro to Human Genetics (BIOL130)
General Biology II (BIOL202)
Biostatistics (BIOL226)
Botany (BIOL322)
Genetics (BIOL365)
Genetics and Evolution of Populations (BIOL415)
Physiological Plant Ecology (BIOL425)
Research
Phenology of local flora
Flora of Allegany County, NY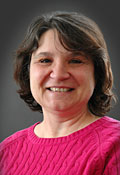 I came to Alfred University in 1999 from a post-doctoral position as a plant physiologist with the USDA Cereal Crops Reserach Unit in Madison, WI. My Ph.D. is from the University of Florida in Horticulture with a specialization in plant breeding and genetics. I have a M.S. in plant physiology from Bowling Green State University and a B.S. in Biology from Siena College.
At AU I teach General Biology II, Biostatistics, Botany, Genetics, Human Genetics, Field Botany, Physiological Plant Ecology, and Genetics and Evolution of Populations.
My current research interests include the floral biodiversity of Allegany and the phenology of local native spring ephemeral species.